Dahua wifi series is being developed with the brand name under IMOU. IMOU has a wide range of products which are being operated with through Wifi technology. The wifi camera is neat and tension-free in the installation and presentation. I mean you just need two things for wifi camera installation. First is a high-speed internet connection and second is a power connection near the camera position to be hung.
Hikvision cameras are based on the AHD series and Dahua cameras are based on HDCVI technology. AHD technology is outdated but good enough to watch cameras but when we compare it with the latest HDCVI technology developed by Dahua. We will end up by saying HDCVI technology is better than AHD which is of Hikvision.
Now I am going to describe one of the best cameras of Imou Dahua. This camera is known as LOOC.
IMOU LOOC Camera specifications with explanation and benefits
 The LOOC is a 2 mp camera with 1/27" sensor. This means it is a very wide-angle camera and can cover a very wide area. It is providing 1920×1080 resolution which is good enough to see a full HD view. It is a night vision camera with an IR range of 33 ft which is 10 meters. A lens of 2.8mm means it will cover a really wide area. So we can more accurately define the field of view as; it will give 111-degree horizontal view, 58-degree vertical view, and 133-degree diagonal view. The auxiliary interface of imou LOOC is also good. The micro-sd card slot is also available. It can support a 128GB card. The reset button is also very crucial. This is also available is imou LOOC. LOOC CCTV Wifi camera price in Pakistan is available and not too high to afford.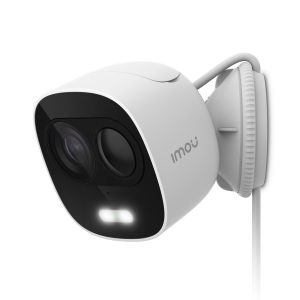 If we discussed network strength, it has very strong antennas which are open fields up to 100 meters. Its wifi type is IEEE802.11 b/g/n/ You may find a lower price camera and LOOC CCTV wifi camera price in Pakistan may be higher. But keep in mind this camera application for cellphone is available. This app is named Imou life app for both IOS and Android.
Audio and video are of advanced level. Video compression of H.264/H.265 makes it ability better to maximize the storage capacity. This is a high-speed camera and can take 30 frames per second. This camera can offer 16x digital zooming, which means the pixel will be distorted when you zoom in to the maximum level. Built-in microphone and speaker are also a point of interest for people who want to speak and listen to the audio of a person in front of the camera. This camera is designed on sending human detection alerts, so when it detects the human it will switch on its spotlights and give the alarm of 110dB siren which is very loud to hear. You can make it off when not needed. This LOOC CCTV wifi camera price in Pakistan is near 12000 Rs.