Why Wifi cameras are important? Which is the best Wifi camera?
CCTV wifi camera price in Pakistan is always a concern of every person in Pakistan because of its easy installation. All people want gadgets with easy installation. Wifi cameras are just the option to have an easy installation of CCTV cameras at home office or another place. One thing which is not good is wifi cameras, That is their range is not so big, unlike wired cameras. Wired cameras can be installation 300 feet away from the recorder but wifi cameras rang is not so big.
Few brands are trending in the market especially in the wifi camera domain. The first one is of Dahua Imou and the other local brand is V380. Imou camera price in Pakistan is not high and the quality of the camera is remarkable. V380 is a low-quality brand. Its products have low life and do not go far beyond. Its operational problem will be most as compare to Imou camera. V380 wifi camera price in Pakistan is lower than Imou wifi camera price in Pakistan.
One of the best models of imou is Cruiser. The cruiser has gained the remarkable attention of the buyer in the market. Cruiser is the first PTZ camera that has all features that the client is looking for. It is a wifi operated camera. It has two-way audio communication. It is a PTZ camera with 360-degree rotation. Demanding wifi camera is the Cruiser only.
Technical aspects of the Cruiser
This camera is specially made for outdoor use. You can use it indoors as well. The important thing is it is a waterproof camera. The company said it is designed on IP 66. Ip66 is a weatherproof device. It means it can withstand high temperatures and bad weather like rain conditions. Companies are coping with each other model and features of products. V380 may provide you with two-way audio but the quality imou camera can offer is the better one. Cruiser offers you a built-in mic and speaker with an echo cancellation feature. Eco cancellation allows you to talk and listen clearly with family members, pets and unwanted visitors at home or office, etc.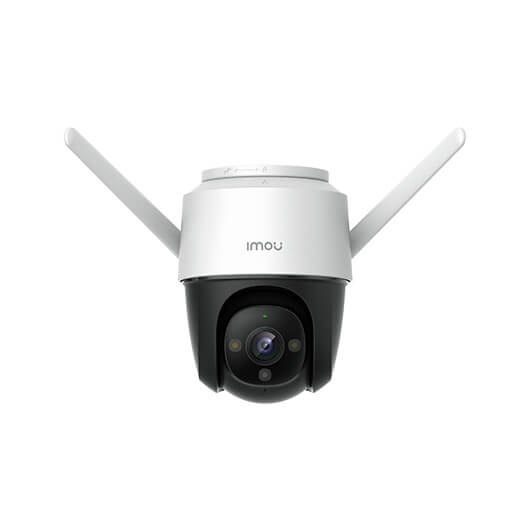 Again I say if you are saying that a low-price camera of v380 is better than imou cameras, I would say you are saying wrong. You may say v380 is also offered motion and human detection alerts. But the important thing is you are not receiving false alerts. So power processing technology is really important. This technology can quickly find moving objects and can classify human objects and other moving objects. Cruisers do not send a false alert in the confusion of other animals or motion with human beings. Cruiser human detection is 100% true.
The detection region is also an advanced feature in the Cruiser camera. You can select the grid to set for motion detection alerts. No alarm will be triggered if the motion is detected in the area which is set and non-motion detection area. You are getting the accuracy of alerts in a brand like imou. V380 can not offer such accuracy.
Few aspects may be missed here, you can read the data sheets at the imou life website or wait for my next post. 
Cruiser CCTV Wifi camera price in Pakistan
Imou cruiser price was offered at 10000 rupees, but now a new price is coming. Cruiser CCTV wifi camera price in Pakistan will be nearly at 12000 to 13000 rupees.